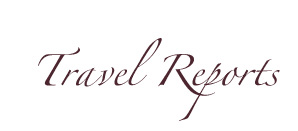 ---

The Great Wall
by Spring Sun
There's so much to say about our trip to China and as we reflect back on the memories, we will find that our experiences are endless.

I was born in Shanghai, China in 1989, however at the young age of 3, I moved to America. Due to this, I did not hold much, if any, memories of that time. Over the 12 years that I have lived here, I've only visited China a total of 3 times. In those three times, only once did I truly go sightseeing, and even then, it was only to Beijing. This trip however, reopened my eyes to the wonders of my "roots."

One of my most memorable moments was visiting the great wall. Though that was one of the places that I had visited in 1998, the scenery was totally different. When I went previously, it was during the winter and though the winter scenery is very beautiful, it was also very windy, so the only thing that I could concentrate on was trying to keep my self from getting blown over. But also, being 9 at the time, I didn't have much of an appreciation to the scenery. This trip however, was an eye opener for me. It gave me new appreciation towards the song Great Wall Capriccio because I could finally connect to what it was trying to describe. Going to the great wall, we had to get up in a ski lift at first, and then we climbed the rest of the way. The stairs seemed endless as we walked. Once we were over one terrace, another one appeared in front of us. However, by the time we got to the last terrace, there were no more stairs, everything was basically dirt. By that time, it had already started to rain and we were getting tired of the salesladies trying to get us to buy things. However, when we reached the last terrace and we looked down, it felt like everything was worth it. From that point, I finally understood what "wan li chang cheng" actually meant. As I saw all the many miles of the great wall, I gained a new appreciation for all those who died there, whether in battle, or while building it. It's a totally different experience seeing it with your own eyes and seeing it on a postcard.

Some thing else that struck me as amazing was our trip to jiu zhai gou. Before, when someone would mention the word "nature" I would think of the average, blue skies, green trees, etc. After our trip to jiu zhai gou however, my view of nature totally changed. This may sound strange, but never before had I seen such blue water. Everything seemed like it was unreal, a part of some paradise that had miraculously landed on earth. The most amazing place was probably the third gorge that we went to. It was the last bus that would be working and so it felt like we had the whole place to ourselves. There were no other tourists and everything was nature and only nature. As we walked in, I remember Gordon exclaiming "THE WATER IS EXACTLY LIKE IT WAS WHEN I CAME HERE MANY YEARS AGO." We looked over, and indeed, the water was even bluer than the others. The entire place was secluded and it gave me an understanding of how such wonderful music could be composed. By getting in touch with the Chinese culture and the Chinese environment, there's no doubt in my mind that such places can evoke a lot of talent and inspiration.

In addition to a lot of sightseeing, this trip gave us an opportunity to bond with our fellow musicians. In regular rehearsal, we may know each other, say hi, but we never got a chance to really know each other. Through this trip, I can say that I know a lot of people better.

A few memorable people that I would've never really realized existed were, Mr. Lin and his "wacky" personality, Monique and her willingness to help, Nancy and her enthusiasm to take on anything, Robin and all the notes under our hotel doors, and lots more. But also, our opportunity to meet our fabulous tour guides was a great experience in itself, especially Steven, our tour guide from chengdu, who was really one in a million. Aside from his Cat named sucker, blowing warriors, and hinting that all men from chengdu are very good to their wives, Steven was someone who went out of his way to make us have the best time possible. When you hear of china, you often hear of thieves, other people of that sort. However, Steve was the total opposite and through him, I'm sure many of our impressions of china became even better. Through he isn't in FYCO, I believe that Steve showed our undying FYCO spirit to treat everyone with respect and to keep our heads high and deal with all our problems.

I believe that aside from a cultural experience in which we were able to connect with the culture of FYCO, we also had an opportunity to connect with FYCO itself. This trip has made us stronger as a group and with this strength; I believe we can embark upon a higher level. And if I didn't learn anything at all from our china trip, I can at least say that I now know 3 ways to be cooler.


« Chinese Report »

---

Du Fu Cao Tang
APPRECIATING DU FU
By Sally Rouses

It was on the 7th day of our China Tour trip that my deeper journey into China began: We embarked upon the DuFu Straw House. Immediately upon entry, we were blanketed by a feeling of tranquility in a world of soothing shades of green. The courtyards and gardens were full of lush trees, jade colored bushes and occasional splashes of color from pots of flowers. Just to add to this serenity, a gentle creek meandered through this surreal beauty. I felt we were transported to another space and time.

We then learned about the person who is revered by this sublime beauty-Du Fu, the famous poet of the 8th century. Du Fu was not a famous poet in his lifetime and for a considerable time thereafter (actually not until the 11th century). But a poet he was. Unfortunately many of his poems have been destroyed in order to limit their dissemination and influence. What was so powerful about his poems? Couched in a clever style, his poetry became the voice of the common people. He spoke to their struggles, suppression and suffering.

Let me give you an example:

QINZHOU
Troubles fill our lives;
It is man who has made me
Take these hard roads; slowly
We wind up Long Mountain
Scared to look down those cliffs
In the pass we go through;
At night we cross the Fish and
Dragon River, then stagger on
Across the Bird and Rat Hills
Away into the west, asking why
Beacon flares can still be seen,
Worrying lest that we be halted
By still more war.

Through his life, Du Fu lived in abject poverty primarily because of the personal suppression he suffered by the government. Possibly a life full of hardships gave him the inspiration to express himself and produce these timeless gems.

For me, my China Tour journey continues….

« Chinese Report »
---

My favorite part of the China Tour
By Orion Foley

I never thought you could do this….

I continue to be incredibly inspired….

My favorite part of the China Tour was listening tothe suona player at the Shanghai Exchange Concert. When she started to play, I was in awe. How could someone play so magically? She played notes I did not think were possible; she held notes for over three minutes; she captivated the audience. I still think of her beautiful melody.

I learned later that she is 15 years old, started playing when she was 6 years of age, and practices 4-5 hours every day. I am inspired!

For me this creates a new golden standard that I should try to reach.

« Chinese Report »