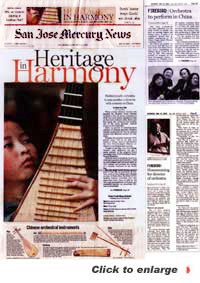 When artistic director Gordon Lee founded the Firebird Youth Chinese Orchestra with 13 young musicians in 2000, the event barely registered a blip on San Jose's cultural radar. But in just four years, the orchestra has become one of the most dynamic cultural groups in the South Bay.

Made up mostly of American-born children of Chinese ancestry, Firebird initially performed for free at cultural centers and libraries around the Bay Area.

Perhaps the greatest measure of its growth spurt will be its visit next month to China, where it will become the first Western-based Chinese orchestra to perform in that country.

Tonight at the San Jose City College Theater, local audiences can get a sneak preview of the program being presented June 17-26 in Beijing, Chengdu and Shanghai.

Firebird owes its progress, in part, to dedicated parents and students, a deal on performance and rehearsal space at City College, and perhaps the novelty of a Chinese orchestra in the South Bay.

But the main credit for its success goes to Lee, 52, an instructor of Chinese music at the college and a former protege of Chen Jilue, the father of the modern Chinese orchestra. Lee, who came here from China in 1989 as Xie Tan, is an accomplished performer and masterful teacher on numerous Chinese instruments.

Like many professionals who have emigrated, Lee initially worked at menial jobs such as cleaning houses and busing tables, in spite of an impressive résumé that included membership in the China Pingju Opera Theater in Beijing in 1978.

He revived his musical career in the mid-'90s as a student at San Jose State University, before establishing the Eastern Music Center in San Jose in 1996. This training ground for students of Chinese instruments became a prototype for Firebird, which today has three tiers totaling 120 student musicians. Most are Chinese-Americans from 7 to 16 years old. Aside from the three adult musicians joining them, the Firebird http://www.fyco.org/members/ performing in China will be students between 10 and 16.

"I'm the teacher, but they are the foundation," Lee says modestly.

The orchestra includes four sections of musicians playing such instruments as the lute-like pipa, the two-stringed violin known as the erhu and the bamboo flute called the dizi.

The often lush and dreamy arrangements, reminiscent of soundtrack music from period films produced in China over the last decade, charms audiences with a range of epic sweeping sounds and intimate instrumental passages. Along with traditional Chinese compositions, the orchestra has performed the theme to Disney's "Mulan" and an adaptation of the Glenn Miller hit "In the Mood."

Parents are pivotal

One of Lee's greatest strengths has been a sense of when to take on a challenge and when to enlist someone else for the job, whether writing grant applications or teaching the nuances of the erhu. The support of parents, he repeatedly insists, has been vital to the success of the venture.

At a recent Saturday night rehearsal, three dozen parents gathered with their children for a potluck dinner. At this cross between a church social and a study session, the mothers and fathers enjoyed a traditional Chinese meal and then received an update from Lee about upcoming rehearsals and tasks for various parent committees. Then the adults slipped into desks at the rear of the rehearsal hall to read Chinese papers and listen while Lee led the students.

With baton in hand, he launched the group of about 20 musicians into a song but abruptly stopped them, pointing to the pipa section.

"Crescendo," he said, "but just a little bit larger."

York Wu, 14, a student at Lynbrook High School who plays the trumpet-like suona, joined the orchestra in 2002 partly because his family, who had immigrated from Nanjing, thought the experience would help him stay connected to his cultural heritage.

"It's not every day you find someone as dedicated as Gordon," said Wu, "and I feel like I'm part of something that's greater than myself."

At a time when arts funding from foundations has mostly dried up, Firebird has consistently landed grants. This month, the National Endowment for the Arts awarded the group $26,000 for education, and the John S. and James L. Knight Foundation, through Arts Council Silicon Valley, awarded $10,000 for music instruction.

"What Gordon Lee has been able to assemble is unparalleled," says Diem Jones, director of the grants programs for Arts Council Silicon Valley. "There is no model for them to follow. The results have been astounding, and not only on a community level. You can see they're ready to go global."

A homecoming

The China tour has special meaning for Lee: It will be his first trip home since leaving 15 years ago. But Kevin T. Frey, a City College professor of music and humanities and a horn soloist for the orchestra, says Lee, though excited, isn't inclined to call attention to his return.

"I think he's going back as a hero," Frey says. "He's not going back to prove something, but if he had something to prove, it's that this music is wonderful and beautiful, and it can be intercultural. For him, it's just another step along the way toward something even bigger and greater, which is the music itself."